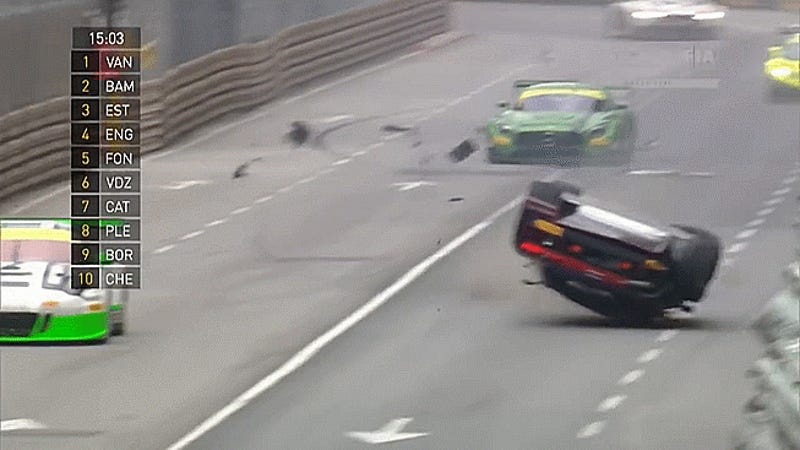 FIA GT World Cup Audi R8 LMS racer Laurens Vanthoor clipped the inside curb at Macau's Mandarin Bend at 155 mph, sending him out of control into the wall on the other side of the track, per Motorsport.com. Vanthoor's Audi flipped over and started sliding on its roof, immediately triggering a red flag to stop the race.

There's nothing like the sense of speed you get from a roof-mounted camera. Because it's dumb and bad to try car surfing on a race car, we've got video from on top of an Audi R8 LMS flying down Road America that you can enjoy from the comfort of your own home. Turn up the volume, and let's enjoy a good V10 howl.

Audi claims the V10 in the R8 LMS car is so reliable they rebuild it only between seasons. I don't know how impressive that is (or isn't), but I can tell you it looks very pretty.
Magnus Racing's GTD category winner #44 Audi R8 LMS at the Rolex 24 At Daytona. One badass race car. Photo credit: Mason Bleasdell/Sideline Sports Photography/Audi Sport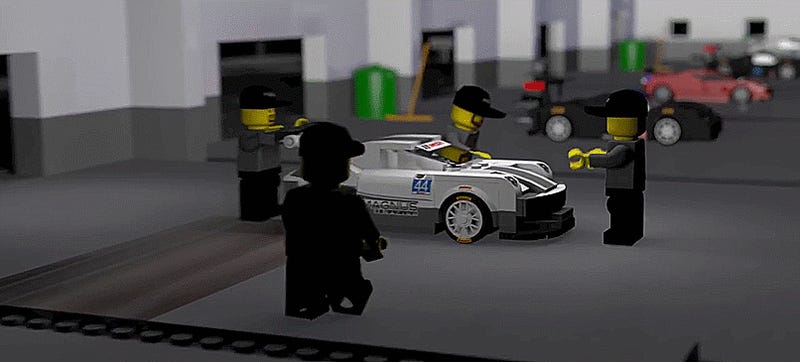 Magnus Racing, the perennial pranksters of the IMSA paddock, are back in the WeatherTech Sportscar Championship with an all-new car. So they've made another clever video for the start of the season—this time in Lego, and with appearances from various drivers as well as last year's Ballast Possum (RIP).
The Audi R8 LMS has been making Porsches look bad in GT3 races ever since 2009 and here's the second generation of the car. The main focus appears to be safety.
Audi made a spectacular entrance into the 2013 American road racing season by taking the win at the Rolex 24 Hours at Daytona. Not only did they finish at the top of the podium with the Alex Job Racing team, but the R8 LMS driven by the works drivers took the second spot after twenty four hours of hard racing.
Built in 1922 and essentially abandoned in 1923, Autodromo de Sitges-Terramar is the second oldest remaining track in Europe. Unlike the oldest, England's Brooklands, it was built so well that it remains useable today. Here, rally legend Carlos Sainz laps its 80 year old banking in an Audi R8 LMS.
Renowned Alabama-based VW/Audi/Porsche tuner APR will run this year's 24 Hours of Daytona with a brutal-looking Audi R8 LMS, done in a particularly glowering version of their traditional black and white and red all over.
Forget driving a Chevy Volt at Milford, how about an Audi R8 LMS race car in a race! Audi is offering customers the opportunity to drive factory-backed R8s in races backed by professional racing teams — for a price.
The official start of the 2009 FIA GT Championship season began at Silverstone this past weekend with many new contenders. Check out this mega gallery of action-packed race images we've compiled below.