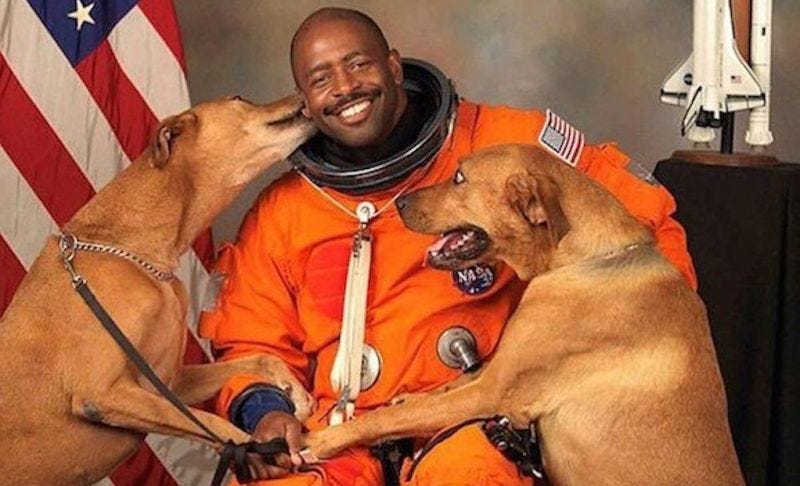 Leland Melvin is a unicorn of a human being. He's been drafted to the NFL, flown in the final frontier (twice), and now, written a book called Chasing Space. On the internet, the former NASA astronaut is best known for this unforgettable photo with his two dogs, Jake and Scout, who grace the cover of his new memoir.…
Sick of your dead-end job? Dream of going into space, flipping your old boss the bird as you ride a column of fire into the heavenslike the space hero you know you really are? Then get your ass in gear and apply to be an astronaut! Today's the last day!
As if being an U.S. Astronaut aboard the International Space Station isn't already cool enough, Reid Wiseman is having all of the fun up there while shooting epic videos and photographs.
Scott Listfield is a man on a mission called Astronaut Dinosaur. His unbelievably entertaining paintings take a look into the imaginatively contrived adventures of a space-bound astronaut. Check out his work below.
Look, we've had beefs with romantic rivals. It once nearly came close to fisticuffs. Or it would have had he turned up at that Jets to Brazil show instead of hightailing it to Olympia, dammit. Ah, drama amongst fin de siecle indierockers. But at some point, you fold your tent and retire from the field and turn it into…
We admit; this is only peripherally related to cars. However, that doesn't change the fact that US Navy Capt. Lisa Nowak drove 900 miles wearing diapers to confront, allegedly intimidate and possibly kidnap another woman in an airport parking lot. Nowak felt Colleen Shipman was romantically involved with Space Shuttle…