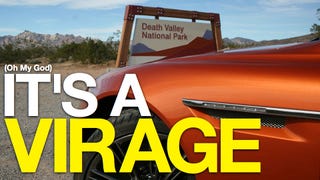 You'd think any car expected to muscle in between Aston Martin's debonair DB9 and its cinematic, covert-ops-ready DBS would have seriously sharp elbows. What the new Virage lacks in elbows, however, it makes up for in bra-unhooking charm.
Aston Martin's reviving its VIrage badge for a new DB9-based model with approximately 500 hp to slot in between the DB9 and the DBS. First photos of the car show creased side skirts and new front/rear fascias.
Whether an engine or a steering wheel, parts-sharing is an easy way for manufacturers to save money. Still, many car owners may be surprised by what parts get shared. Here's 12 unlikely examples.
Ferrari wagon-izations and hypercars bathed in magnetizing yellow are just a couple hints the Sultan of Brunei is perhaps the most Jalopnik head of state in the whole world. Like us, he seems to have a maddening obsession with odd cars. However, what sets him apart is his seemingly unending pot of money with which to…