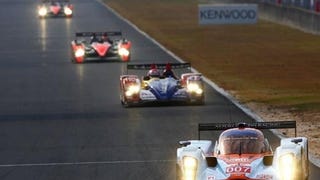 The Aston Martin LMP1 team was rewarded with a victory yesterday, taking first place in the second round of the Asian Le Mans Series held in Japan. The team won the three hour race after starting in fourth position.
The young Aston Martin Le Mans racing team will be making its Japanese debut on Halloween with its hot Gulf Oil liveried LMP1. Given the October 31st running of the event, we were hoping for something a bit spookier.
Aston Martin is prepping two factory-backed Gulf-liveried works LMP1 to fight for overall finish at 24 Hours of Le Mans. The last time they managed this was 50 years ago. Can they do it again?