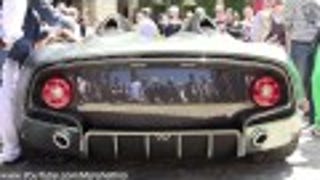 When we first saw the official shots of the Aston Martin CC100 Speedster, we knew it looked good. What we didn't know, however, was how it sounds. (It sounds awesome, of course.)
When a car manufacturer sets out to create a car to celebrate an anniversary, they sometimes end up with a beige box that now has some new headrests and then they call it a day. Thankfully, not all car companies think like that, as we were shown with the Aston Martin CC100 Concept today.
The Aston Martin CC100 Speedster concept is here, and she's a beauty. A V12-powered birthday present with a historic lineage and an advanced, hand-built carbon fiber body.