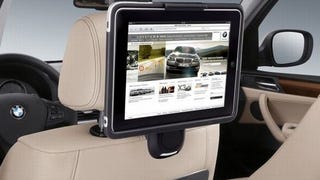 BMW has announced an Apple iPad holder accessory for back seats. Users get a swiveling holder for portrait and landscape orientations while using the in-car wifi Connected Drive System. Keyboard and flash games not included.
Could the iPad kill high-priced OEM-installed backseat DVD players? Until the kiddies drop it. [KickingTires]
Hyundai's newest luxury sedan, the Equus, was just revealed at the New York Auto Show with the announcement it'll forgo the mostly ignored paper owner's manual in favor of an iPad, allowing customers to make vehicle service appointments wirelessly.