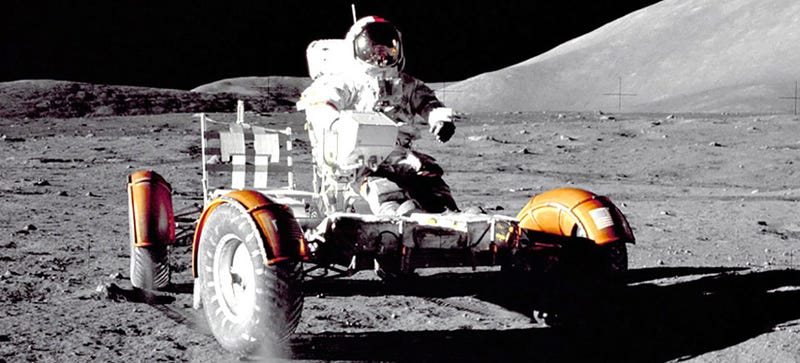 Humans have landed on the moon six times, but conspiracy theorists still insist the actual number is zero. They cite bad science, misunderstandings of physics, and outright lies to try to convince you that American astronauts never set foot on our moon. Here's one more way to prove those wackos wrong.
Exactly 45 years ago today, after months of preparation, Apollo 11 embarked on its now-legendary mission to the moon. But what exactly does it take to send three men into the great, vacuous unknown? See for yourself.
This weekend marks the 45 year anniversary of the Apollo 11 mission landing the first men on the moon. Like all missions, NASA had a contingency plan. Space historian Amy Shira Teitel explains the astronauts' grim orders if a lunar lander malfunction had left Neil Armstrong and Buzz Aldrin stranded on the moon.
Yesterday was the 44th anniversary of the first time humans set foot upon the Moon, when the Lunar Module of Apollo 11 landed on July 20th, 1969. Astronauts Neil Armstrong and Buzz Aldrin took plenty of stunning photos, and here are a few shots from angles you may not have seen before.
A billionaire has recovered the Saturn V rockets from Apollo 11 from the bottom of the ocean. Gizmodo has the whole story.
Today, forty years ago, mankind took a giant leap and stepped foot on the surface of our moon. It's a perfect time to celebrate with a look back at the Apollo 11 mission.
German company Fahrmitgas is helping us in America celebrate the 40th anniversary of the Apollo 11 moon landing with the release of the limited edition Chevy Captiva Moonlander. Creepy silver space suit is included.