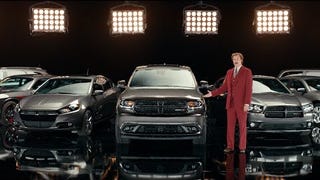 All these years, I've been pronouncing "Dodge" with a hard D sound. But thanks to Ron Burgundy, America's greatest newsman, I now know it's pronounced with a soft D, like the soft J in jogging, or as Ron calls it, yog-ging. Thanks Ron!
When Chrysler teased four ads with Ron Burgundy hawking the Dodge Durango last week, we thought that it would be one or two quick ads. We were wrong. Really wrong. They're doing 70 of them and, so far, they're brilliant.
There was once a man whose teachings inspired countless people and literally changed the course of history. He was all about forgiveness and loving your fellow man. Whether you believe he was real or not, he's an excellent example to follow. I am, of course, talking about Ron Burgundy from Anchorman.
We like to think professors drive odd/cool cars like Saab 900s, but it turns out they really drive dreary boxes like Toyota Camrys and Corollas, as you informed us this week.