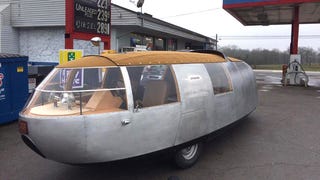 No longer is the show field at a Concours d'Elegance flush with Duesenbergs, Packards and European cars with names you can't pronounce. Now there are examples to please just about any automotive palate as evidenced by these extraordinary vehicles on display at yesterday's esteemed Amelia Island Concours…
What you see here is a flock of the most desirable Ferraris ever built — all assembled on a single ferry. That includes a huge percentage of the entire GTO production run. An estimated $160 million worth of Italian metal calmly crossing the sea. Even the police escort is impressed. What's going on here?
My grandmother still has the program from when the Pope visited San Antonio in 1987. Wert saw him in NYC. Pope Paul VI's 1965 Mercedes-Benz 600 Pullman limo visiting the Ameila Island Concours isn't, but it's still kind of cool.
One of our favorite new automotive artists has expanded his "Brand As Art" series with an interpretation of the Aston Martin wings for the Amelia Island Concours d'Elegance and an ode to the Union Jack and the new Rapide.