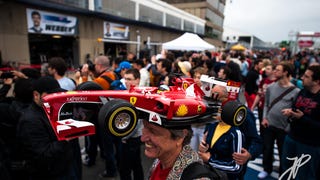 I love Circuit Gilles Villeneuve. What an awesome place. For spectators, but also especially for photographers. It's like a playground for us to have fun with. Modern tracks are desolate with their enormous runoffs and empty grandstands. You're miles away from the cars and you need long glass with teleconverters to…
What's better than full photos and details of the brand new Ferrari F12 Berlinetta? Why, video of the fastest Ferrari ever built, of course. Watch Ferrari F1 drivers Fernando Alonso and Felipe Massa react to the car at Fiorano and then watch a CGI-y look from every angle.
The Ferrari California apparently isn't easy to drive, which may explain why Ferrari/Fiat Chairman Luca Montezemolo beached one off the track this weekend at the Ferrari World Finals with Felipe Massa and Fernando Alonso in the back seat.