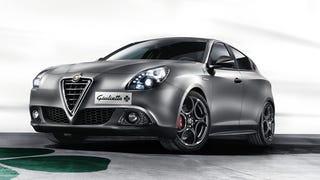 It's lean times at Alfa Romeo, what with being down to selling a couple of aging hatchbacks and the very special 4C sports car. That means there's parts sharing going on between the three. Which is great if you're in Europe and want a Giulietta with a lot of turbo boost.
Alfa Romeo is hurriedly releasing as many performance variants as it can to ride the popularity wave of the new MiTo city car. Say buongiorno to the latest 1.4-liter, turbocharged, 180-HP Alfa Romeo MiTo Veloce.
And what a noise! It's a revvy little trumpet that will instantly turn every owner into a juvenile delinquent. Grandmothers will shake their heads in disapproval. All Alfa has to do now is build the damn thing.
Still in concept form but now in real pictures instead of PR gloss, here's the Alfa's MiTo GTA. Those ludicrous exhaust pipes look even more enticing in the flesh!
BMW and Fiat have signed a memorandum of understanding to co-develop the next-generation platform underpinning three different small cars — the Mini, the Alfa Romeo Mi.To, and the Fiat Grande Punto (which is desperately in need of help based on our experience). To borrow a phrase, the auto industry works in mysterious…
Can't get enough of the cute little Alfa Romeo MiTo? Neither can we. So while the Fiat Grande Punto-based Alfa isn't available until July, we still enjoy watching it race around the test track. Maybe if we can get enough people to want one, Alfa will bring it to the US?
[Alfa Romeo]
They say you haven't become a true "petrolhead" until you've owned an Alfa Romeo. To meet that requirement in America, that requires scavenging through used car ads and, subsequently, junkyards. However, for the places in the world that actually get new Alfas, owning one of the Italian beauties will be a bit more…
This is what's known in the industry as the Halo effect. Believe it or not, Alfa Romeo aren't making the 8C Competizione because they lay awake at night dreaming about the color red combined with 450bhp V8s, but because their accountants spend all day figuring out what building such a vehicle will have on the sales of…
We just told you about the new Alfa Mi.To this morning, and already we've got close up footage of its cute little Italian details. While we would rather have a more traditional name for the car, we think Alfa's got a winner here with it's 8C Competizione-inspired styling in a Mini Cooper-fighting package. Now if we…
After the success of BMW's Mini Cooper ("you got them to pay what for that?") many companies have been anxious to offer their own alternatives to the pseudo-British hatch. Alfa Romeo is now one of the first to get in with the decidedly un-retro Mi.To., which looks more like an 8C Competizione than any hatch…