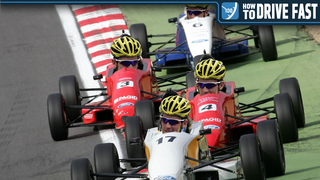 If you've been so busy making tender love to your fake girlfriend and you've been unable to catch the news let me fill you in: Lance Armstrong admitted to cheating. Many of us did know that Lance Armstrong doped throughout his career, and a few nights back, he finally fessed up.

Cheating in sports is unfortunately…
Legendary racer A.J. Foyt is in a hospital in Houston following complications from knee surgery. The 77-year-old racer was supposed to be the grand marshall at the Rolex 24 Hours at Daytona this weekend, but an infection has sidelined him so he will remain in Houston.
For over 60 years, Tom Carnegie was the voice of the Indianapolis Motor Speedway. Seen here giving a post race interview, it was Carnegie's booming voice that announced every Indianapolis 500 race from 1946-2006.
The early-to-mid 1960s were a time of tumult at Indianapolis. The engines had begun to shift from the front to the rear, and the track was still claiming victims with somewhat alarming regularity. However, Colin Chapman's motto wasn't "Simplicate and add durability," (otherwise, one thinks, he would've been running…
While we were growing up, A.J. Foyt was the baddest ass on four wheels. We had a toy version of one of his Coyote racers. We rooted for him every year at the Brickyard at our grandparents' house, back when the 500 was tape-delayed and shown in the evening. He's bare-knuckled, rough-and-tumble, and he won LeMans with…
Having lived in the Lone Star State and having fallen in love with at least two too many women from it, we still don't quite claim Texas. Sure, we've got a bit of Tejas cred, and we love the place. We're anxiously looking forward to our forward-til-death Route 66 roadtrip out there in two months which will be…