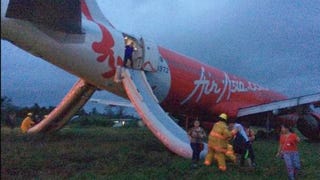 AirAsia has suffered a second incident within the span of only a couple of days, as one of its Airbus A320 planes overshot the runway at Kalibo, in the Philippines. Thankfully, this time everyone survived. This incident will hopefully be the last in an unusually traumatic year for commercial aviation.
A flight reportedly carrying 162 people on board — 155 passengers plus 7 crew has disappeared from radar, and its location is currently unknown. Air Asia flight 8501 had taken off from Surabaya and was heading to Singapore Sunday morning when it disappeared from radar at 7:24AM. Bad weather may have been a factor.
Flights get interrupted fairly frequently by the vulgar drunk, the groping drunk, and even rage over the Knee Defender — but a Chinese couple forced a plane to turn back when they allegedly attacked a flight attendant with scalding hot water, then threatened to blow up the plane.
Some of you might remember back to 2009 and 2010, when jetBlue sold an All You Can Jet pass — $599 for a month's worth of unlimited flying. They haven't done that in a while, but another airline is now doing something similar for $148. The catch is that you have to do all your flying in Southeast Asia.
Lotus F1 boss Tony Fernandes said Monday he'll auction off seats on an AirAsia flight where Virgin boss Richard Branson will dress up as a "stewardess" after losing a cross-dressing bet. Below, show us what he'll look like in drag.