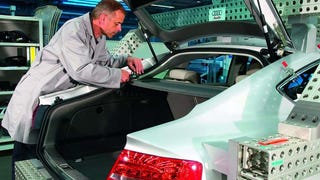 While it's not a full vehicle reveal, under the guise of "quality testing example," we get a look inside the hind end of Audi's upcoming A5 Sportback five door. Yep, sure is a hatchback. [Carscoop]
Audi's sexy new coupe just got a younger, more practical brother that sadly, won't be coming here. Meet the Audi A5 Sportback, teased here for the first time ahead of its September unveiling at the Frankfurt Motor Show.
Audi says this Sportback Concept presages a hatchback production model that'll arrive some time this year: the 2010 Audi A5 Sportback.