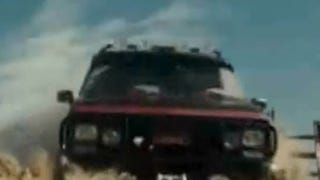 As ridiculous as it sounds, the A-Team movie remake includes the only cast member we care about: the classic GMC A-Team van. Also, B.A. Baracus in a Lamborghini clearly pities many fools. Leaked trailer below.
This is not the new A-Team van. It's just a boring old Chrysler minivan fitted with an A-Team-van-emulating red stripe and red wheels. Doesn't take away from the B.A. Baracus wanna-be lurking in the background. (H/T to Curt)
Yes! The A-Team movie's coming and thanks to the possible casting addition of Liam Neeson as Col. John "Hannibal" Smith, it should be less campy. We love it when a plan comes together!