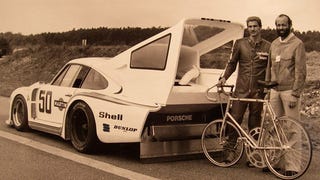 We'll put our money on the Porsche 935 in Martini livery, if only for the vastly superior aerodynamic advantage. Although, that guy's sporting a pretty nice beard. Choices. [gasandrubber]
Porsche's Weissach skidpad in the mid-1970s. Look upon these fisheyed works, ye mighty, and despair. Enjoy the weekend!
Pacific Northewest-based race photographer and Datsun 510 racer VintageRacer has continued to send us plenty of great action shots, and now it's time to share a few.

In our estimation, the two finest cards of the day at the Monterey Historics fell on Sunday — the resurrection of the Canadian-American Challenge Cup and the retro IMSA class (aka Group 7b in Historics parlance) are the two wish-we'd-been-there, can't-miss events of the weekend. And since commenter jrhmobile requested…
With 750+ horsepower cracking from a flat-six thanks to creative use of turbocharging and Bosch mechanical injection, the Porsche 935 represents the apex of crazed eighties IMSA Group 5 twin-turbo gas huffing mayhem. The Porsche brain trust produced many variants of the 935 six-banger in answer to the ever changing…