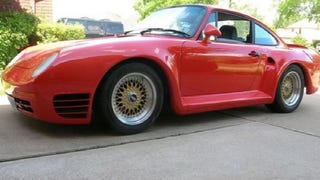 Tribute bands may not always look like their honorees, but they usually do a good job of at least sounding like them. Today's Nice Price or Crack Pipe '81 Porsche 930 is outwardly a tribute to the legendary 959, but does its price think it's the real deal?
In The Pit and the Pendulum Edgar Allen Poe imagines a diabolical death machine involving an arcing scythe. If Poe were alive today, he might find this Nice Price or Crack Pipe Porsche 930 equally fiendish for its pendulum-like handling properties, but would he also find its price horrific?
Porsche's Weissach skidpad in the mid-1970s. Look upon these fisheyed works, ye mighty, and despair. Enjoy the weekend!
Welcome to Project Car Hell, where you choose your eternity by selecting the project that's the coolest... and the most hellish! We saw the '49 Rolls Silver Wraith hold its own against the obviously unbeatable burn-victim Countach, gaining a respectable 41% of the vote in yesterday's Choose Your Eternity poll. Today…
From the oh-ye- of-questionable- taste department: Here's a rare (in the US) Porsche 911 kit car made by Covin that's currently on the eBay block. Like most Covins, this one's on a VW chassis, though unlike many Colvins, it's powered by a Ford four banger that's actually turbocharged as per its 930 pretense. It needs…