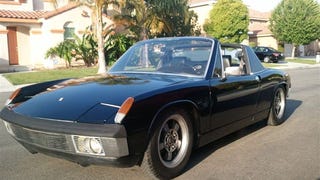 There are certain things that you wouldn't think go well together, like chicken and chocolate, and yet Mole Poblano con Pollo is freaking fantastic. Today's Nice Price or Crack Pipe formerly air-cooled Porsche 914 seems a perfect mate for a wet and wild SBC, but does its price match expectations?
It's a Porsche, it's a Volkswagen, It's a... If they ever make a movie out of Today's Nice Price or Crack Pipe 914, Faye Dunaway could play the lead, and hopefully Jack Nicholson would driver her.
A Porsche 914-6 GT travels a forest path, looking like everything a big bad wolf could want. Awooooooo! [via BZR]
The seller of this V8-powered 914 suggests that it's way too powerful for younger drivers. Nice Price or Crack Pipe thinks it's pretty safe to say a 300+ HP romper-stomper like this would bring out the kid in anybody.
We had the Herbie The Love Bug replica score a 44% on the Crack-Pipe-O-Meter™ last Friday, but that was due to 21% of the vote going to "other", thanks to a poll glitch. Today we're going with a car that most likely earns an approval rating of about 99.9999% from our readers: a factory-built Porsche 914-6 race car…
What we have here is a 1974 Porsche 914 with a Chevy 350 engine and a Ferrari-influenced body kit, sort of a German Malaise version of the Fierrari. The owner needs to sell because he's "just sick," plus he's accepted a lifetime career opportunity in NYC and, you know, "Goodness only knows what insurance would cost…
It looks like Italy has been knocked off the PCH Superpower throne by the UK, according to the results of yesterday's Choose Your Eternity poll. That means that PCH SuperGigaPower France awaits the chance to take on its historical PCH rival from across the Channel. But first, let's see how Britain fares against a…
Since way more than a month has passed since the last DOTS Porsche, it's time for another one! In fact, we've seen enough of Alameda's street-parked Porsches to have a poll to see which one is the favorite of our readers. This lil' yellow devil parks within a block of where I shot the '68 GTO and the '68 Belvedere…
When we had the Is the 914 DOTS-worthy? poll a while back, 85% of you answered in the affirmative. That means it's about time we saw one of Alameda's 914s... which have turned out to be really hard for me to catch in photographable circumstances. I see them in parking lots, driveways, parallel-parked snout-to-tail…
The hits just keep on coming. This time, an astute reader found a vintage shot of a modified (well, duh) Porsche 914 pickup, accented by some period-specific cheesecake action, from VW Trends magazine. We probably begged our mom to buy us this exact issue at the A&P long about 30 years ago. She likely took one look at…
A new 914 from Porsche? Will it be fun? Will it be cheap? Will it catch fire like a basement full of oil-soaked rags? All these questions may be answered if a report in Road and Track is on the money. The new niner would recall the old model's VW/Porsche connection — a stripped-down Boxster, weighing in at only 2650…