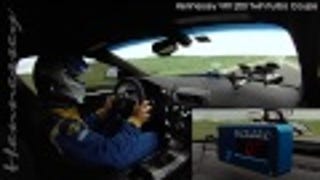 God Bless Texas. Land of the free, home of the batshit crazy. Crazy like John Hennessey who took his 1,226 VR1200 Cadillac CTS-V to test the 85 MPH highway's tag systems at higher speeds.
I shift into fifth gear and hit 70 mph as I merge onto the State Highway 130 toll road east of Austin. The speed limit on this road is 80 mph, so that's where I stop accelerating until a Chevy Tahoe packed with children passes me in the left lane, probably doing around 90. Then I decide to push the accelerator a bit…
Texans are one step closer to being able to drive 85 MPH legally on certain stretches of road, with the state's department of transportation announcing this week that they're testing out sections of a toll road between Austin and San Antonio to determine if it can handle the speeds. Yeehaw!