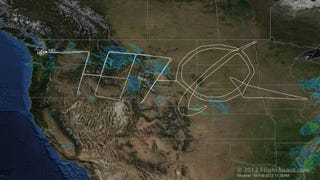 The Boeing 787 Dreamliner has been in service for no more than a few months and already some Boeing test pilot has tagged the American Northwest like an Etch-a-Sketch with a 787 logo. Damn hooligans.
A Boeing 787 Dreamliner — the sixth 787 Boeing's made so far — took off from Boeing Field in Seattle in December 6, 2011. Yesterday, it landed in Dhaka, Bangladesh, having flown 10,710 nautical miles to set a distance record for a commercial jet of its weight. It's also a victory, of sorts, for carbon fiber.
Car configurators are one of the all-time great online time-wasters. If you want to dream bigger, though, Boeing will let you (virtually) paint a new 787 Dreamliner.