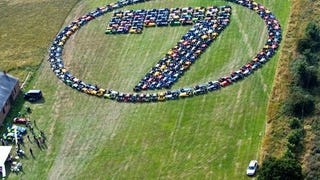 Last weekend, 236 Caterham 7 owners assembled themselves into a giant "7" logo. Below, check out the close-up and find out why.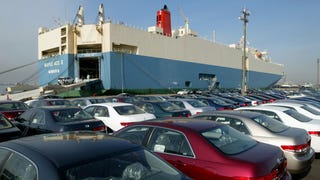 It's hard to not be detail-oriented when buying a new car. Jeff G. went all out for BMWBlog, hyperstalking his car from the factory to his dealer. This one of the most obsessive things we've ever seen. —Ed.
Ahead of its official reveal at the LA Auto Show, the official details on the BMW Concept 7 Series ActiveHybrid have finally been released after months of us sitting on the edges of our seats, waiting with bated breath. The ActiveHybrid (as opposed to the other name considered, "LazyHybrid") is a "preview of…
Remember the Caterham RS Levante? It's a fire-breathing version of the lightweight Catherham SV, with a supercharged 2.4-liter V8 making 500 HP. With that kind of power sent to street tires in a car that only weighs a few feathers over 1100 lbs, the RS Levante is the kind of ride that would make even the Stig's pants…
The Italian Stallions over at the Mediterranean version of the blog about autos caught these photos of a disguised 2009 BMW 7-series while cruising down the autostrada. We'd like to think they were wearing a yellowed wife beater, gold medallion, driving a mid-'90s Panda and gesticulating wildly while they took them,…
Sure the garden variety Caterham Seven is fast, but what if you want to smoke your buddy the shah's Bugatti Veyron on the cheap? Enter the Caterham Seven RS. Caterham has joined up with speed freaks RS Performance to bring to life a real fire breathing bug killer. RS will be dropping its race proven 40-valve, 2.4…
Hi Al. We thought we would post this. It's a video of a Caterham with a Hayabusa motor. We're sure you know more about it than we do. We just like listening to that 1.3L Suzuki mill wind out. Humina.