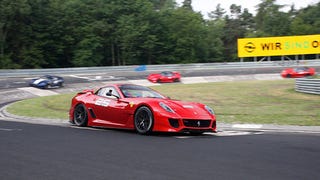 The Ferrari 599XX claims to have just became the first production-derived sports car to break the seven-minute barrier at the Nurburgring, lapping it at an astonishing 6:58.16. But is it really a record?
If you're one of the million gamers laying virtual tracks in Forza Motorsports 3, the Hot Holiday DLC pack offers ten cars with a combined 5,649 HP. Below, discover why you'll want these bruisers in your virtual garage.
Is your day feeling down? In need of a fast fix of Italian? Then these newly released images of the harder, faster, track-ready 2010 Ferrari 599XX should suffice. Consider yourself properly livened up.
Here's the exclusive first shots of the Ferrari 599XX, a F1-inspired carbon-fiber track weapon designed to test new race-ready technologies. We recommend you poke a hole in a paper plate before directly viewing this gallery.