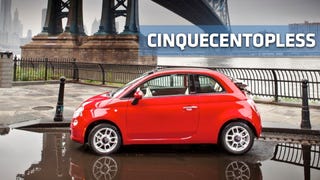 The Fiat 500C is neither fast or sporty. But how can you not have a blast driving a convertible this cute?
The new Fiat 500c arrives in U.S. Fiat dealers later this spring with a starting U.S. Manufacturer's Suggested Retail Price of $19,500. That makes the Fiat 500c the only four-seat convertible on the market priced below $20,000.
Australian supermodel and world's hottest 46-year-old Elle Macpherson took delivery of the very first 2010 Fiat 500 Convertible available to the public and certainly didn't waste any time showing the world its low-riding top.
We spotted this miniature woody, a Fiat 500 C Giardiniera Belvedere, while passing through Charlevoix, Michigan. Ironically, it's still not the coolest car in town, as this place is also home to the awesome V8-powered Citroen 2CV off-roader we found at Autorama. The lakeside town is popular destination for…