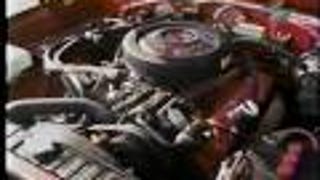 Keeping with our "Gentleman's muscle car" theme of our vintage Car and Track road tests over the past couple weeks (1971 Oldsmobile 442 and 1969 Studebaker Avanti II) let's take a look at the 1969 Plymouth GTX. If you are a Jalopnik reader who has a strong zest for living, this 1969 Plymouth GTX test could be your…
You don't typically think of 1970s era luxury cars like the 1971 Chrysler New Yorker as performance cars. According to Bud Lindemann, host of Car and Track, "along with all the 'poshiness'" the 1971 New Yorker had some muscle too.
The Allman Brothers espoused being a Ramblin' Man, Led Zeppelin needed to Ramble On, and in Ramble Tamble, CCR sang down the road I go. Today's Nice Price or Crack Pipe American may not run, but it's a Rambler too.
A man like Dieter is never content with just one barn full of cars and tools and gadgets. Less than a kilometer away from his shop, Dieter has his treasure barn. From the road it's so unassuming that you'd never know it could contain an 850Ci and a 440 Duster. In addition to those, there's at least an ancient Tatra,…
The story goes the original owner of this wagon was dismayed to find that the Plymouth GTX came out just weeks after he purchased the mighty land yacht. So dismayed in fact he took it back down to the dealer and made them option it the same as a Belvedere-based Plymouth GTX coupe. A 440 with six-pack bolted to a…
We were a little perplexed yesterday by the lack of cat scratching over engines when it came to the Charger/Challenger challenge. As we mentioned in the feature, our hands were up in the air and our shoulders shrugged. How do you choose? On the one hand you have mega-displacement in the form of the 440 Six Pack, which…
We know; today is going to be rough. Ever since the 1970 Buick GSX 455 robbed the Judge edged out the other the other three GM big blocks for a spot in our Fantasy Garage there have been howls for 440 Six Packs, 426 Hemis and general Mopar R/T madness. Well friends, today is your feast. As always, caveat emptor, for…

Leaving the New York Auto Show last week, several of the Jalops were approached by a enterprising Town Car driver. The gypsy-cabbie offered to bring us downtown for the princely sum of $45. Spinelli bid this soon-to-be-hapless hack to look for another sucker a guy with a carnation in his lapel to cough up the 45…
With all of the attention given to '69 Chargers these days due to the Dukes of Hazzard hoopla, we felt it was time to focus on another historic Hollywood Mopar: It's got a cop motor a four-hundred- and-forty cubic-inch plant. It's got cop tires, cop suspension, cop shocks; it was a model made before catalytic…