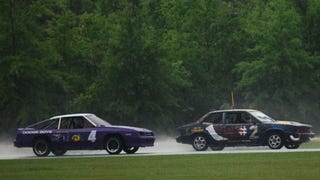 If you're a serious 24 Hours of LeMons fan, you know that the Index Of Effluency (given to the team that overachieves beyond all expectation with an all-around terrible car) is the real top prize. Who's leading after Day One?
The Türbö Schnitzel XR4Ti has competed in several LeMons events here in South Carolina, with predictable results each time: KABOOM! Obviously, an XR4Ti must have a turbocharged Ford engine, but there's no law that says it can't be a V8!
We could smell the cheat as soon as we showed up at CMP this morning; it was clear that we'd be issuing some hefty lap penalties for teams stretching the rules beyond reason.