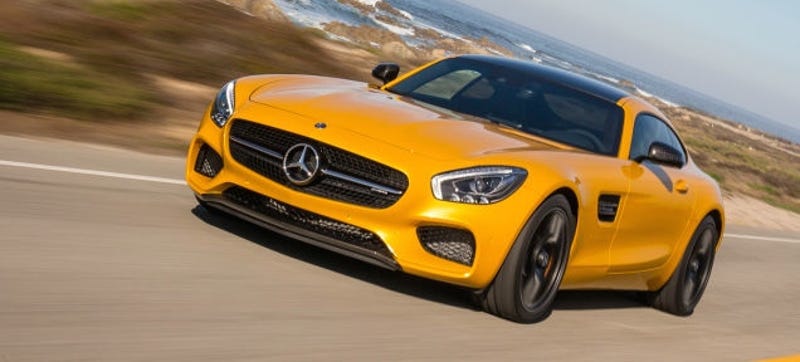 I have a problem. I've never managed to keep the throttle floored the entire stretch of Laguna Seca's front straight in anything over 500 horsepower. It's practically my home track, but as soon as I start climbing that crest, self-preservation kicks in and I lift. Every. Damn. Time. That changed in the Mercedes-AMG…
Mercedes-AMG GT Diary, Day Three. I still have not driven this car, sadly, but I'm starting to lust after it more and more. This is even more true after watching the car bring its sound and fury to the Circuit of the Americas.
I have a confession to make: I wasn't entirely sold on the Mercedes-AMG GT at first. Sure, the performance sounds impressive, as does its light weight and lower price point than the SLS AMG. But the styling just didn't stop my in my tracks the way the Jaguar F-Type Coupe does.
According to Bloomberg, the 2016 Mercedes-AMG GT is 440 pounds lighter than the SLS AMG and will start at a price in Europe that makes us believe the U.S. price will be around $100,000.
"It's Mercedes' 911 fighter!" That's what everybody, including us, had to say about the debut of the Mercedes-AMG GT today. But the last time I checked, there are more than just two powerful, high-end sports cars in the world.
Two models with glorious twin-turbo V8 power. Top speeds that approach 200 mph. Loads of weight-saving aluminum. A racing-inspired gearbox. Right off the bat, the 2016 Mercedes-AMG GT seems like it will be a force to be reckoned with.
Mercedes is doing a live presentation for the launch of the 2016 Mercedes-AMG GT, and while it's a bit unusual considering most eyes are glued to a much bigger event, some photos of the car have already leaked early. Meet Mercedes' new Porsche 911 fighter.
The 2016 Mercedes-AMG GT premiers tonight, and here's everything you should know about the Benz that wants to kick the Porsche 911 Turbo's and the Jaguar F-Type R's ass with a distinct grunt.