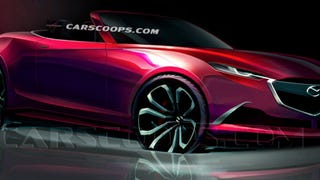 We're all still on heightened 2015 Mazda Miata watch because of this rumor the car would show up later this month at the New York Auto Show. But is this actually what the new roadster is going to look like?
There is no better thing in the world than the Mazda Miata. Nothing. Not Christmas. Not sex. Not sex on Christmas. Nothing. And Mazda might be pulling the ultimate surprise and could bring the 2015 Miata to the NY Auto Show next month. Yes yes yes.
Stop the Internet presses! For the past two years, we've heard that the 2015 Mazda Miata's platform will also underpin a new Alfa Romeo roadster. Now we're hearing that Alfa's parent company Fiat might say "You know, we're gonna grab that one for ourselves, but thanks for playing."
Say, if you've ever driven a Fiat 500 Abarth and thought "This engine is a ton of fun, but it would be even better in a small, lightweight, rear-wheel drive application" then get excited! Alfa Romeo may make your dreams come true.
Lightness! SkyActiv engines! Ovals! The next-generation 2015 Mazda Miata is said to be getting all of these things when it becomes a reality sometime next year. Here's the latest.
Guys. We all know the Mazda Miata is the best car in the world ever since cars have been cars. Now, we've received word that the next Miata might weigh a little more than a ton of feathers. Suck on that, everyone!