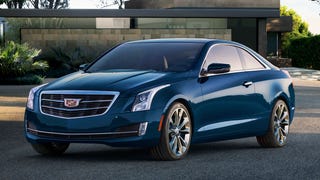 Come on, you know you want the Cadillac ATS Coupe over the sedan. The four-door's backseat isn't even that big anyway. Just be ready to pay more for better looks and fewer doors.
Here's a bunch of photographers surrounding the 2015 Cadillac ATS Coupe at the Detroit auto show. While they were taking pictures, I asked one of Caddy's top execs if an ATS-V was in the works. The short answer: Stay tuned.
The all-American Cadillac ATS is about as good as modern sport sedans get. Now it's got a version designed to fight off its two-door competitors as well. Meet the Cadillac ATS Coupe!