This is what you see if you sit on the rear left seat of a 2014 Mercedes S-Class. The best thing about it? A clever table. One you can actually use for work while on the move.
Mercedes goes into insane amounts of detail and precision for almost everything it produces, but the 2014 Mercedes-Benz S-Class is going to be its new flagship. And when it's your flagship, you've got to do it right. This video shows the borderline-obsessive attention paid to development and testing for der neue S.
It's been established that the 2014 Mercedes-Benz S-Class is a packed with a lot of new car technology that's going to be widespread in a few years. With all of the talk about making a car that effectively drives itself, the S-Class foreshadows some pretty amazing technology that's going to make driving a lot safer –…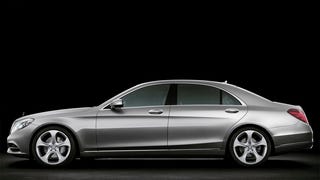 There is a prominent rumor that despite its new internal code, the 2014 Mercedes S-Class is built on the same architecture as the old model. How similar do they look, though?
The 2014 Mercedes-Benz S-Class officially debuted today in Germany. It has cameras that look at the road to control chassis settings and the promise of a lot of great tech. It speaks for itself. So to reveal it, Merc went understated with an arsenal of cars, an Airbus A380, Niki Lauda, and an Alicia Keys concert.
The 2014 Mercedes S-Class' steering wheel and instrument panel makes a clown face. That's going to be nice staring back at you for every second you drive the car.