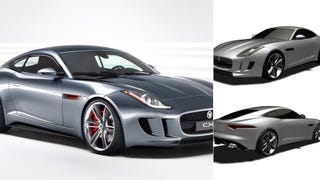 Those patent drawings of the Jaguar F-Type Coupe that showed up on the Internet are mighty sexy, aren't they? But now there's some doubt as to whether those drawings show the upcoming coupe or just its very similar concept from 2011.
The new Jaguar F-Type roadster is obscenely sexy. I think it's one of the best-looking sports cars to come out in years. But what are you, the discriminating car buyer, supposed to do if you're a roof enthusiast? Jaguar has an answer to that, and here it is. Kind of.
The embargo on reviews of the all-new 2014 Jaguar F-Type lifted last night and so the web is teeming with takes on Jaguar's first proper two-seat sports car in decades. And guess what? It turns out it's pretty great.