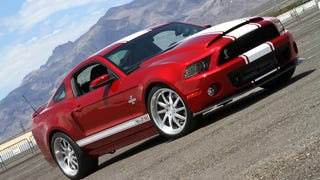 Even until his last days, Carroll Shelby was known for his love of supercharging things, especially Mustangs.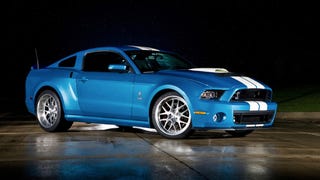 Like a chainsaw made of bacon, the 2013 Shelby GT500 is magnificently batshit and distinctly American. In honor of the late Carroll Shelby, Ford, Friends of Carroll and Shelby American just released a one-off 850-hp version of the GT500 at Pebble Beach.
Clearly the stock 662 horsepower in the Shelby GT500 is woefully inadequate. Lethal Performance, with a help from a handful of shops, took their Shelby up to 763.9 rear-wheel horsepower and blew a 9.77 quarter-mile pass at 148.8 miles per hour.
662 HP! The 2013 Ford Mustang Shelby GT500 is, let's face it, an absolutely insane vehicle. An absurd amount of power, a ludicrous amount of engineering, and a horsepower-to-money ratio that can only be measured on the metric batshit scale. Weirdly, my biggest complaint is how utterly sane it feels.
Even with its skyrocketing price, the Nissan GT-R is still a value, but it's hard to argue it's cheap power anymore. But the 650 HP 2013 Shelby GT500 — at a starting price of just $54,995 — is astonishingly cheap power.
Feel free to peruse these live shots we just took of the 2013 Shelby GT500 Convertible. Just watch out you don't fall into its gaping maw — you might get eaten alive. Nom! Nom! Nom!
We were lucky enough to be the first on the floor here at the Chicago Auto Show to catch the 2013 Shelby GT500 Convertible peeking its snout out. Here's the first photos.
Some seem to think because they saw a 2013 Shelby GT500 Convertible running around without camouflage it's suddenly coming to Detroit. It's not. Haven't you people ever heard of post hoc ergo propter hoc? Total fallacy.
650 HP, 600 Lb-Ft and 202 MPH. In a Mustang. Try and get your head around that while we sit here live at the LA Auto Show with our jaws on the floor. In addition to the 2013 Shelby GT500, there's updates to the Boss 302 and 5.0 too.
You know how the Chevy Camaro ZL1 was supposed to be sitting atop the Muscle Car War heap? Yeah, not so much anymore. Meet the 650 HP 2013 Shelby GT500 — it's gonna try to make the ZL1 its little bitch.
There's much disagreement over what engine the 2013 Shelby GT500 will get, with some hinting it'll be a 500+ HP twin-turbo 5.0-liter V8 and now Car And Driver stating it'll be a 600+ HP 5.8-liter supercharged V8. Such wonderful disagreement.
Amid spy photos of a Coyote-engined Ford F-150, our friends at PickupTrucks.com tell us to expect a twin-turbo 5.0-liter "Road Runner" V8 with output of well over 500 HP to debut in the next-generation Shelby GT500 in 2012. Meep!Meep! [PickupTrucks.com]