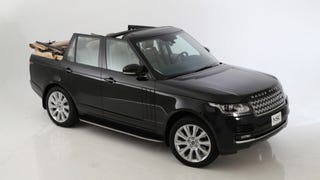 The VW Rabbit Cabriolet had a built-in roll bar below the convertible top. This 2013 Range Rover was made into a convertible by NCE and has the same thing. That means that this is a modern VW Rabbit Cabrio. Neat!
If you buy the 2013 Range Rover, you probably won't be taking it off-road. You probably won't take it to Hog Canyon Trail in a remote part of Utah, where you'd be able take it up a hill and battle rocks, sand, mud, and snow along the way.
Car makers and buyers generally play it pretty safe, color-wise. If you happen to be in a high-rise right now or reading this on your daily hang-glide, just look down and see. It's mostly a sea of silvers and deep maroons, whites, and some blues*. There's exceptions, sure, but generally, colors stay safe.
The new 2013 Range Rover drops roughly 700 pounds for the US market. That kind of weight loss isn't healthy for most humans, but it's just the kind of development we like to see in cars.
You don't have to try very hard to find photos of the 2013 Range Rover online, but just in case you were feeling a bit lazy here are two photos clearly showing two angles of the latest big SUV from the brand. Evocative of the Range Rover Evoque, don't you think?