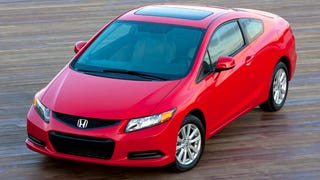 High on the list of things you should definitely read today is this piece by Automotive News' Mark Rechtin detailing just how Honda managed to turn the much maligned 2012 Honda Civic into the it-could-have-been-worse-because-it-was-worse 2013 Honda Civic, which has Honda execs explaining the way its efficient system…
Today we showed you the refreshed Honda Civic, an updated version of the fantastically boring Civic that is currently still selling quite well. It seems that there are plenty of people who like the Civic, even though many car writers loathe it.
As buzzkills go, few were greater than the 2012 Honda Civic. It was boring. It wasn't fun to drive. It was outclassed by nearly every new compact car. It also sold like crazy. Thus enter the 2013 Honda Civic, which is designed to address the concerns of people who don't buy the car.
If you were waiting for a Honda Civic that won't bore you death, your time has come. Sort of. Honda's freshened-up Civic looks like what it is: an update of the previous generation's Civic that skips the 2012 deathly beigemobile.