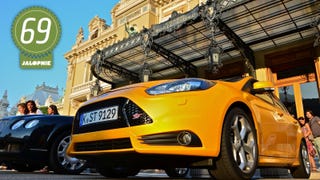 The Ford Focus ST is the first front-wheel drive car I would actually purchase with my own cash. I don't lust after it, or fall asleep thinking about it, it's just a really good car. And certainly way better than I expected from a four-door, front-wheel drive hatch.
Ford introduced their 252 hp Focus ST in a unique way, by organizing a street rally and asking spectators to send in their video clips. The final result is professionally edited amateur footage of Tanner Foust and Greg Tracy whipping the speedy little cars around Key West's narrow streets.
Enthusiasts of the big blue oval holding out for the Ford Focus ST will be pleased to discover the global hot hatch will cost only $24,495 ($23,700 MSRP + $795 destination) when it arrives at dealers this fall. GTI who? Mazdaspeed what?