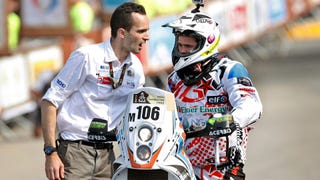 We have more unfortunate news to report from the 2013 Dakar Rally as a French motorcycle competitor was killed earlier this morning in Chile after he crashed into a police car.
As we've said here before, the Dakar Rally is one of the most dangerous motorsports events on Earth. This became especially evident yesterday evening after a rally support vehicle was involved in a crash with two taxis, leaving two people dead and seven others injured.
As you may have learned from checking our weekly Motorsports Roundup yesterday, this weekend marked the first two days of the 2013 Dakar Rally, the famously intense off-road race that doesn't go to Dakar anymore but is still pretty badass.