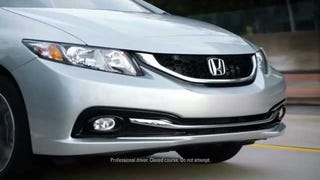 We just saw the 2013 GL at the New York Auto Show, but it looks like Mercedes prematurely leaked three pictures of the upcoming AMG version before anyone was supposed to see it.
Hold on to your luggage, folks, this is the 2013 Audi RS4 Avant. Audi's überwagon gets an upgrade for the next generation visually, while still sticking with a 450-hp version of the company's 4.2-liter V8.
Porsche pushed a new 911 Cabriolet sans chappeau onto the dias in Detroit this morning on a brief stop on its way to dealerships this spring. If you get the chance to deliver one, take the long way. It's quite the ride.
It looks like changes to the KERS system in F1 cars will allow them to go electric-only in the pits for 2013 using a significantly more powerful EV system. Is this a greenwashing job or awesome tech? (H/T to Twiggy!)
BMW will launch a radically lightweight mass-production electric car in 2013. The BMW Megacity will be sold under a new sub-brand and based on technology being tested by the Mini E. [Autocar]
According to the UK's Autocar, a small Land Rover coupe is in the works for early next decade. Likely to be smaller than the current entry-level LR2, the new, light-duty off-roader will replace — belatedly — the scrapped two-door Freelander, when it arrives around 2013. A concept based on the coupe, which would target…