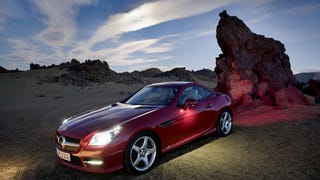 The new 2012 Mercedes SLK has what ze Germans call "MAGIC SKY CONTROL." The feature allows drivers to dim or lighten the convertible's folding glass roof with a touch of a button. The car may also have an engine.
While European Union bureaucrats took the liberty of publishing the trademark views of the 2012 Mercedes SLK, just a month after Mercedes gave us a glimpse, a Jalopnik reader caught the real deal enjoying the Bay Area views.
Over the weekend, a French promo film featuring the 2012 Mercedes-Benz SLK found its way onto the web. Our question — was the new Sportlich, Leicht und Kurz Benz an accidental leak or an attempted viral reveal? (H/t to everyone!)
Not all days at the Nürburgring are rainbows and unicorns, as evidenced by this 2012 Mercedes SLK prototype breaking down and spewing smoke in the tester's first run. Yeah, that's a bad day.