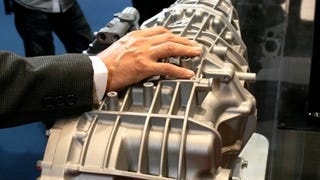 Amid the rest of the Lexus LFA engine porn on the floor of last week's Tokyo Motor Show was the new super car's ginormous driveshaft-housing torque tube in the Aisin supplier booth.
This transparent sculpture, by Japanese architect Scu Fujimoto, displayed at Milan Design Week and then caught by Autoblog at the Tokyo Motor Show, of the new $375,000 Lexus LFA super car is stunning. Old, yes, but still stunning.
While trolling about for more engine porn on the floor of the Tokyo Motor Show we came across the customizable digital speedometer and tachometer for the Lexus LFA. It looks pretty trick to us and very techie-cool. Gallery below.
The sneaky spy photographers at KGP have caught the Lexus LF-A, Toyota's luxe-brand's super car that'll reportedly command a $400,000 price tag with almost no camouflage. We wonder where they spotted it. Any guesses? Gallery below.
Ever wondered what vaporware looks like? Then check out these new images of the V10-powered Lexus LF-A Nurburgring racer for us to lust after. Too bad we'll never actually be able to buy one.
Some lucky fool has captured video of the 2011 Lexus LF-A bombing around some track called the Nurburgring and it's making a positively glorious sound. As it screams down the straights, a sweet F1-like wail emerges from ToyMoCo's pending supercar and we couldn't be more surprised or intrigued by this auditory…
The 2011 Lexus LF-A — or maybe it's the 2010, or even 2012, depending on reports — supercar's been shot by the quick to the snap spy photographers at KGP. The speedy little spy shooters caught the supercar-to-be as it appeared to be getting ready to hit the Nürburgring. They're expecting hot laps won't be far behind,…