We have pictures of the new Chevy Aveo. Moving on... [AutoExpress]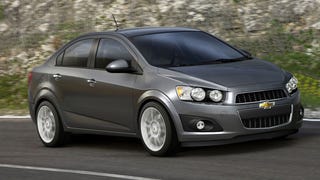 These first images of the 2012 Chevy Aveo show an econobox inspired by the angry Aveo RS concept and designed to make people forget how crappy previous generations of Aveos have been. A photo of the surprisingly attractive interior below.
The Chevy Aveo RS show car is a fairly transparent look at the next-generation entry, slotted above the Spark and below the Cruze. It'll begin production in 2011 and go on sale in 2012, albeit with a lot less aggression.
The problem with the current Aveo is its crushing mediocrity. But after looking at the Chevy Aveo RS show car earlier today, it's clear this lightly-disguised preview of what's to come is styled much more aggressively than the last one.