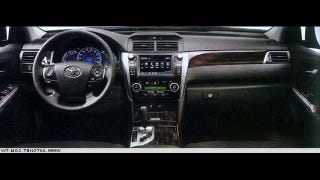 We're a week into Toyota's bit-by-bit reveal of the 2012 Toyota Camry, and since then the market's down more than 1,700 points. Now we've got the first interior shot (albeit, in right-hand drive form). SELL, MORTIMER, SELL!!
Just a few minutes ago, Toyota released yet another official image of the new 2012 Toyota Camry. This time, they did it over the twitters. OMG, it's a... yes, yes it is... it's the headlight... again! Wow. I'm just besides myself. I think I... yes, yes I did just have a beigegasm over the latest and greatest mid-size…
We're getting our first glimpse of the 2012 Toyota Camry courtesy of Toyota CEO Akio Toyoda who says it will be the "best Camry ever" and will be a "remarkable car in terms of handling, safety and fuel economy." It's not like it could get much worse.