Motor Trend picks the 2011 Porsche Cayenne as the 2011 SUV of the year. Moving on... [CNN]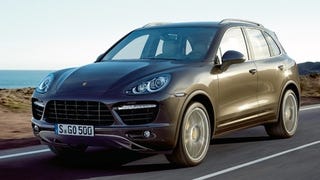 Despite the trompe l'oeil, the 2011 Porsche Cayenne is actually 1.88 inches longer than the outgoing model, but it's also 396lbs lighter. The real controversy, other than it being a Porsche-UV, is the 380HP hybrid — the first since 1899.
If it's smaller and lighter, with busier but less chubby styling, is the 2011 Porsche Cayenne Better? Maybe. This image scanned from the French mag L'Auto Journal is likely the first detail shot of Stuttgart's cash-grab-to-pay-for-the-911. [LeMagAuto via Carscoop]
Little known fact: some of the best off-roading in the world lies in the mountains above Bonneville. Sadly, the 2011 Porsche Cayenne won't be taking advantage of that, it's reportedly lost its off-road ability to shed some weight.
Autocar's snagged spy photos of the 2011 Porsche Cayenne wearing only some small pasties over its lights and badges. What do they reveal? A less aggressively-styled SUV that may be lighter than the outgoing model.
Porsche will eventually redesign their wildly-successful-yet-painful-to-look-at Porsche Cayenne. This photo purports to offer a glimpse of the design direction of the could-be 2011 Porsche Cayenne. God help us.