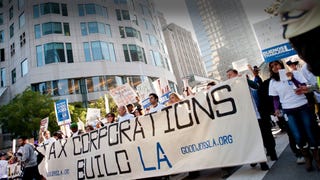 The buzz on the LA Auto Show floor this morning isn't about 650 HP Mustangs or smokin' booth babes. It's about the Occupy protests. Word is, they're marching toward the LA Convention Center, so out-of-town journalists and PR people are fleeing for the airport, fearing they'll be trapped if they wait too long.
This booty belongs to none other than the Cadillac XTS, the long, long, long, long, long, long, long, long overdue replacement for the ancient STS/DTS white elephants. It's going to be notable for its spacious, luxurious interior, but what really sets it apart is that fat ass. How many dead snitches could you fit in…
If you know anything about expensive cars, you know that "Black Series" is German for "crazy expensive." The 2012 Mercedes C63 AMG Black Series, however, is only moderately expensive. Figure sub-$100,000, making this the fancy fast Merc for plebes. Engine parts from the SLS AMG mean it's still plenty fast though.
Our collective crush on the 2013 Ford Mustang mostly centers around Ford being smart enough to not screw with already outstanding product. With the exception of the gargantuan power boost for the 2013 Shelby GT500, most of the changes are minor, like these killer taillights.
Can "R" be to VW what "AMG" is to Mercedes and "M" used to be to BMW? VW seems serious about making it just that. So serious, in fact, that they've named this color "Serious Grey." But can a cuddly new, new Volkswagen Beetle R be taken seriously?
650 HP, 600 Lb-Ft and 202 MPH. In a Mustang. Try and get your head around that while we sit here live at the LA Auto Show with our jaws on the floor. In addition to the 2013 Shelby GT500, there's updates to the Boss 302 and 5.0 too.
Subaru's opening its kimono at the LA auto show today, revealing the Subaru BRZ concept STI for the first time. That's the concept car on which the company's oft-mentioned "Subieyota" BRZ rear-wheel-drive compact sports car will be based.
All those years spent pining for the Euro-only Ford Kuga crossover were not in vain for Ford has finely deigned us worthy with the Kuga-twin 2013 Ford Escape. Now we suddenly realize we never really wanted a crossover in the first place. Oh well. Our moms will buy them!
For next week's LA Auto Show, Honda, Hyundai, Subaru and Mercedes designers let loose with what they imagine the movie cars of the future will look like.
Chevy announced today the most-powerful convertible ever built with a bowtie — the 2013 Chevrolet Camaro ZL1 convertible — will debut at next month's LA Auto Show. Because when the good Lord created burnouts, he wanted you to smell 'em too.
This goofy little grinner was stuck off in a corner of the Mazda stand at the LA Auto Show. It's not news, but with a face like that, how could we not grab the wide lens and go to town?