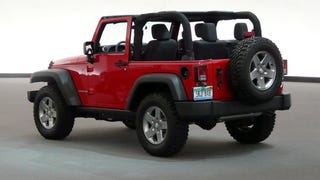 The Jeep Wrangler is a legend. The 2010 model's part of a line of pure, utilitarian, rough-and-tumble vehicles stretching all the way back to 1941. And that's exactly why you shouldn't buy it. The 2011 Wrangler is that much better.
The 2011 Jeep Wrangler and Wrangler Unlimited are here and include a much requested body-color removable hard top and a not-quite-as-highly-requested upgraded interior. Otherwise, it's still a Jeep Wrangler. What do you want? Oh. Pictures? Sure. Many, many pictures below.
In addition to a painted hard top, the 2011 Jeep Wrangler's getting a hugely upgraded interior with new styling, navigation, chrome doo-dads and steering wheel controls. Looks great, but it also sorta feels out of place in a Wrangler. [Allpar]
The Jeep Wrangler got reworked a few years back, but for 2011 they're throwing in an option buyers have been requesting — a painted hardtop. Pictures from Toledo Assembly show body-color tops will be available for standard and Unlimited models.