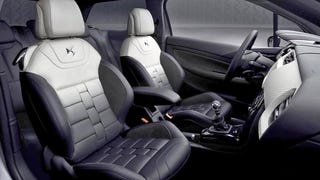 We're still disappointed with the direction the Citroen DS Inside Concept as it indicates the DS3 will be a premium compact but does little justice to the original DS. Inside, it pays even less homage.
Images of the Citroën DS Inside Concept leaked out the other day, and aside from giving us a peek at the forthcoming Citroën DS3, it also signals a reinvention of Citroën itself.
Could this be the Citroen DS3 due to debut at next month's Geneva Motor Show? If it is, color us disappointed.
Citroen will be unveiling three new DS-series cars for the near-luxury segment in the near future, with the small 2011 Citroen DS3 debuting at the Geneva Motor Show.