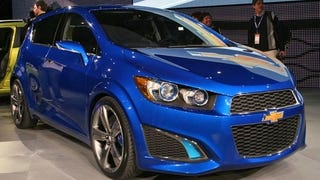 The Chevy Aveo RS show car is a fairly transparent look at the next-generation entry, slotted above the Spark and below the Cruze. It'll begin production in 2011 and go on sale in 2012, albeit with a lot less aggression.
The problem with the current Aveo is its crushing mediocrity. But after looking at the Chevy Aveo RS show car earlier today, it's clear this lightly-disguised preview of what's to come is styled much more aggressively than the last one.
The new Chevy Aveo will obliterate the current car's econobox image. Today, workers at the car's Orion assembly plant previewed it, seen showing the covered teaser above. We'll tell you all about it next week at the Detroit Auto Show.
The 2011 Chevrolet Aveo (or Viva) has to be a more competent econobox than the one it'll replace, able to compete globally against Japanese, Korean and even American competition; Based on these first interior images, it may have a shot.
Even though the 2009 Chevy Beat won't be offered Stateside, we will be getting one of the GM minicar concepts in 2011. While the company isn't saying which vehicle it'll be, our minicar won't be quite so mini, in part to meet US crash regulations and in part to fit our super-sized derrieres.