Want a 2011 Audi A8? Still no word on pricing, but here, go ahead and configure one anyway. [Audi]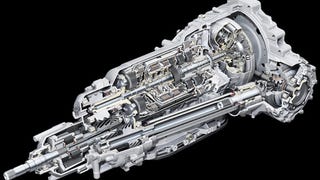 According to InsideLine, Audi's looking to put the 2011 A8's new ZF-sourced eight-speed automatic transmission into the rest of its lineup. That may include the entry-level A3 model — even when it's equipped with the 2.0T four-banger. Simplicity, FTL! [InsideLine]
The 2011 Audi A8, unveiled last night in Miami, is loaded with gadgets — everything from handwriting recognition, terrain-predicting transmission controls and automatic turn signals. It's like Inspector Gadget's car — if he were a chauffeur-driven investment banker.
The 2011 Audi A8 is just about to be unveiled here in Miami, blending Aluminum und Steel und some really cool headlights. We haven't seen the car yet, but we have seen the frame, its balls and Lucy Liu.
This teaser image was part of a large package of promotional photos from Audi's 100-year birthday bash. The size, shape and lights indicate this is the next generation Audi A8.