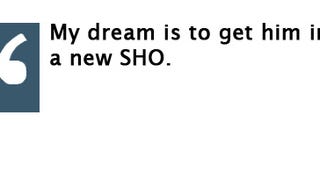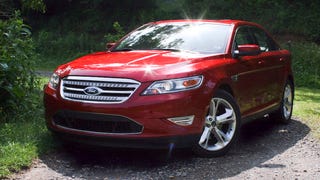 Normally, when we review an exciting new performance car, we like to use a dramatic burnout shot. Unfortunately, the 2010 Ford Taurus SHO barely chirps its front wheels on its 5.2-second trip to 60 MPH.
Ford's exploded the 365 HP, 350 lb-ft o' torque 3.5-liter EcoBoost powerplant underneath the hood of the new 2010 Ford Taurus SHO to show us the bits n' pieces creating this sick torque curve. More details below.
Esquire's gotten the scoop on every automotive outlet, getting Ezra Dyer behind the wheel for an exclusive test drive of the 2010 Ford Taurus SHO. So, what's everyone's favorite hired driving gun think?
You saw it here first. Now it's official, the Ford Taurus SHO is back. The new Super High Output's equipped with a twin-turbocharged 365 HP Ecoboost V6 to turn this $37,995 sedan up to eleven.
Despite the cat already being out of the bag on the new 2010 Ford Taurus, Ford's furiously trying to shove it back in, covering up the new Ford Taurus in all sorts of anti-spy camouflage. And though the sedan is covered and padded to the extreme there's still a lot to learn from these photos. The front bumper appears…