Honda's recalling 3,336 Accord Crosstour hatchbacks because they need some airbag tweaks. [Honda]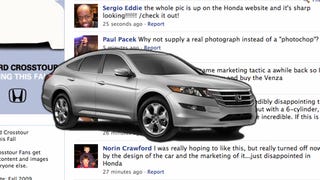 The Honda Crosstour has revealed a closer side of its personality on Facebook. From the photo of the grille below, it appears the Accord wagon won't share the snub-nosed look of the Honda Pilot. See for yourself below the jump.
We were the first to reveal the expected name of the Toyota Venza-fighting 2010 Honda Crosstour, now Edmunds Straightline has new shots of the hatchbacked Honda on its way from Vegas to Death Valley.