GM says a fluid leak triggered a Cadillac SRX fire and a 4,000-vehicle recall. [GM]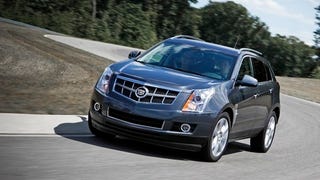 The 2.8-liter, turbocharged V6 in the 2010 Cadillac SRX 2.8T adds 35 HP and a whopping 72 Lb-Ft of torque over the base V6. That's good, because we planned to take it out on GM's famous Lutz Ring.
Yesterday, we told you the 2010 Cadillac SRX not only changed shape, but also changed personality into a grown-up crossover capable of actually handling. Now, what about everything else a luxury-crossover's supposed to do?
The 2010 Cadillac SRX doesn't look like the old SRX, it doesn't feel like the old SRX and it's a much different form factor than the old SRX. That's good, because that means the new SRX is seriously appealing.
GM doesn't really want us calling this a first drive, but this morning we drove the almost-production-ready 2010 Cadillac SRX and it felt good. Like luxury crossover segment-defying good.
We hear commentary coming from the luxury marketing honcho Steve Shannon, Exterior Design Manager Scott Wasell, Interior Design Director Eric Clough and the Chief Engineer Lyndon Schneider. They all nail their talking points pretty well including that one about "Fashion and function." We'll see the car being formally…
The 2010 Cadillac SRX isn't a refresh, it's entirely new, shunning the first-generation's tall wagon styling in favor of a crossover SUV with an upgraded powertrain and interior.
Our lips are sealed by an embargo on the new 2010 Cadillac SRX, but here's what we can share with you — this (actually good) teaser video of the upcoming all-new crossover from Cadillac.
The 2010 Cadillac SRX we first saw in the accidental debut by Rick Wagoner has again upgraded its pixel count with full resolution images of the next generation crossover. The next SRX moves away from the wagon-like version we now have and onto the Theta platform while showing off some Cadillac Provoq concept styling…
We've got the clearest pictures yet of the 2010 Cadillac SRX, betraying details that were only hinted at in GM's super-grainy release. Based on the Theta premium platform, the new crossover from Cadillac manages to stretch the handsome dimensions of the Cadillac CTS Coupe over the proportions of a CUV. The photos show…
UPDATE: We used the "GM Buckles" line for purposes of humor. They really didn't "officially release" these pictures. They're from the same video presentation we saw earlier in the week. Just a wee bit more clear than the last set.

The clamor of every auto enthusiast outlet on the face of this earth was apparently too…
In the now-infamous press conference from General Motors this morning, Chairman and CEO Rick Wagoner not only spelled out GM's strategy to save itself from impending doom, but also revealed pretty much every upcoming GM vehicle that hadn't already been shown to the public. This includes the first photos of the 2010…