You know it's a slow news day state when your largest news outlet's reporting on speeding tickets. [WOWT]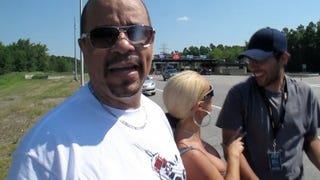 Occasional Jalopnik contributor J.F. Musial (pictured, right), now an embedded videographer on the Bullrun with FastLaneDaily, tells us: "Today I changed a tire on Ice-T's Aston Martin Vantage with a Lexus donut 30 miles outside of Cleveland. What a Sunday."
Kim Kardashian, the woman famous (only?) for her sizable rear end, drops the ceremonial flag Saturday to start the 2010 Bullrun Rally in New York City. Hey... doesn't that Cadillac CTS-V Coupe behind her look familiar? Maybe if we... Enhance!